THE LATEST IN LIGHT BULBS
Confused on all the legislation changes to all the light bulbs you probably have in your home or office? Don't worry, we have all the information and products you need to help you through.
Incandescent bulbs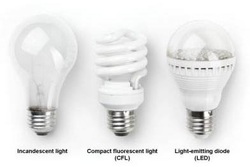 The Energy Independence and Security Act of 2007 is designed to implement sweeping changes to energy policies in the United States. The stated mission of the act is "to move the United States toward greater energy independence and security, to increase the production of clean renewable fuels, to protect consumers, to increase the efficiency of products, buildings, and vehicles, to promote research on and deploy greenhouse gas capture and storage options, and to improve the energy performance of the Federal Government, and for other purposes."
These are some of the major changes related to lighting:
During a phase-in period between 2012 and 2014, a 25% increase in efficiency is required for all light bulbs. This serves to effectively ban most incandescent bulbs. Bulbs under 40 watts, three way bulbs, appliance bulbs, and a few other specialty types have been exempted.
By 2020, a 200% increase in efficiency is required for all light bulbs.
All federal buildings are required to use Energy Star qualified lighting products.
Even though many of the changes do not take place until 2012, various state laws mandating energy efficiency in lighting have already caused the industry to reduce or cease production of many inefficient products. Bulbs.com strongly recommends that both residential and commercial lighting consumers choose to proactively adjust their lighting purchases now in order to assure a smooth transition into compliance with this legislation.
Obsolescence of T12 magnetic ballasts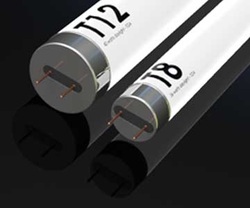 The Energy Policy Act of 2005 was passed by Congress and signed into law on August 8th, 2005. The act mandated a number of changes in energy policy, including an extension of previous ballast efficiency factor (BEF) standards. These standards are now applied to magnetic ballasts used to light various fluorescent lamps, effectively causing the phase-out of these ballasts in 2010. Many manufacturers have already ceased production of magnetic ballasts in anticipation of the phase-out.

Effective July 14, 2012, production of most T12 florescent lamps was phased out, as mandated by the 2009 Department of Energy General Service Lamp legislation.

Halogen PAR Bulbs

Beginning in July 2012, light bulb manufacturers no longer were allowed to produce traditional halogen PAR lamps (the indoor/outdoor floods with metal bodies and heavy glass). The manufacturing ban applies to all PAR lamps of 50 watts or more. Now you need to compare lumens, not just wattage, to obtain a comparable light output